---
Due to a Windows 10 compatibility issue from a software needed for a firmware upgrade, I needed to install a 32 bit Windows 7 machine. I chose to do this as a virtual machine (VM) using VMware Workstation.
But getting to run Windows 7 without errors and with the latest available updates, even though end of life, was trickier than I thought it would be.
Windows 7 Installation
Because I really like my own (meanwhile historical) software archive, I still had a Windows 7 (without Service Pack) installation DVD laying around. I created an ISO file from the physical DVD and started the VM. The installation was smooth and due to virtual DVD drive and SSD storage for the VM, the installation was pretty quick and finished after a couple of minutes.
However when I wanted to format a USB stick (attached to the VM), Windows crashed with a blue screen. I also saw an error code 80072EFE showing up when trying to install Windows updates: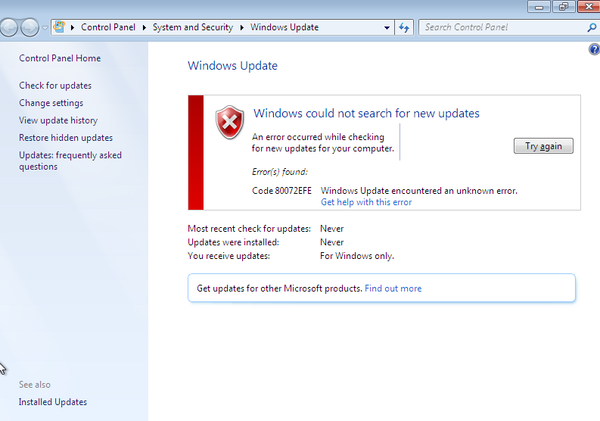 Install additional (manual) updates
To get this Windows 7 "working", a few additional updates need to be downloaded and installed - manually:
Service Pack 1
KB3020369 update
KB3125574 update (convenience rollup for Windows 7 SP1)
Note: With the original Windows 7 and IE 8 you might run into troubles connecting to websites. In the meantime security adjustments (SSL/TLS protocols and ciphers) happened and Windows 7 with IE8 is just too old to display (most) websites. To workaround this, I downloaded the exe files from a modern computer and placed the files on a Samba file server. From the Windows 7 VM, I connected to the Samba server and installed the updates from there.
Service Pack 1
Now to the first problem: The service pack 1 cannot be downloaded from the Microsoft site anymore. Instead of the download link, the Microsoft site shows a 404 site error and the information:
We're sorry, this download is no longer available
Great help. Not!
Luckily the SP1 can still be downloaded from a couple of download sites. Chip is a German computer magazine and a trustful source and it's also where I was able to download the Windows 7 SP1:
Install the SP1 exe.
KB 3020369 update
The KB 3020369 update is also known as "April 2015 servicing stack update". It fixes a problem where the Windows Management Framework would not be updated. This update may not be necessary, but it doesn't hurt to install it.
Luckily these updates are still available on the Microsoft support site:

KB 3125574 update (a.k.a. never released SP2)
The KB 3125574 update, also known as convenience rollup for Windows 7 SP1, is basically a Service Pack 2 - but never got called this way. It bundles a lot of updates in one pack. You can find the download files in the Microsoft Update Catalog:
windows6.1-kb3125574-v4-x64.msu (for 64bit Windows 7)
windows6.1-kb3125574-v4-x86.msu (for 32bit Windows 7)

Windows working and updates now installable
Now after these 3 updates were manually downloaded and installed, the work with this Windows 7 VM can start. The Windows Updates application doesn't show an error anymore, instead it displays available updates ready to be installed: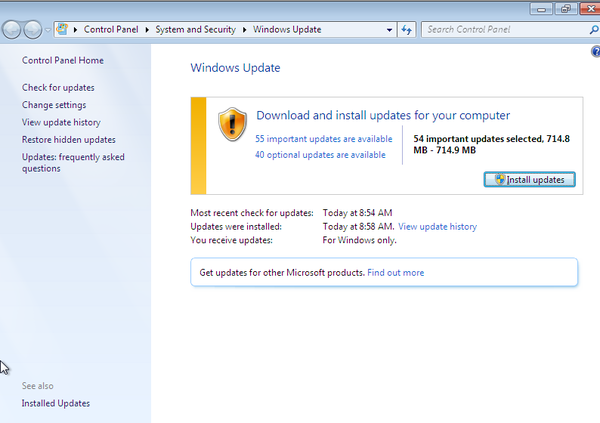 Add a comment
Show form to leave a comment
Comments (newest first)
No comments yet.