---
How does one find the mailbox or the public folder of an e-mail address managed by Exchange? Using the GUI it isn't really a simple task, I couldn't find something like a 'search for destination mailbox of address' so after hitting the right keywords on Google the following solution came up: You need to do your search in Active Directory Users and Computers (ADUC).
Open the 'Find' window either by a right-click on your domain and click on 'Find' or on the Find-icon in the top bar.
Select 'Custom Search' in the drop-down find-menu.
In: Select your domain.
Change to the advanced tab.
Enter LDAP Query: proxyAddresses=smtp:claudio*
This will search for all e-mail addresses containing the string 'claudio' and the result will show you the user (mailbox) or the public folder corresponding to the search.
To make it a bit more viewable: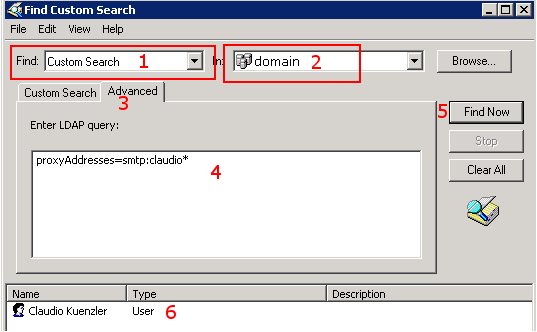 Add a comment
Show form to leave a comment
Comments (newest first)
No comments yet.