---
I recently changed the color toner cartridges of my HP Color LaserJet 2600n printer. A while after I changed them, the printer suddenly started to screw up the color prints. It could be best described as "red background" whenever a color was printed.
See here as an example: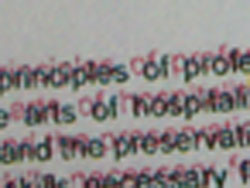 On this normal text with dark blue font as red "background" or "mirror" is printed with it. The same problem appears on pictures. Black and white documents are printed correctly so it must be a problem with the Magenta toner. That's what I thought, but wrong guess.
Of course I used several cleaning pages, re-calibrated that thing, used the embedded tools for adapting the printing quality and so on. It took some time until I finally found this page where the solution seems so simple:
1. Power off printer.
2. Press and hold down the select (green check) and cancel (red cross) button while you power on the printer.
3. Release buttons when you see a message in the display "permanent storage init".
4. The printer will do a color calibration.
And since then everything magically works again. Note that if you follow these steps, the printer settings will be reset to factory default, so you will have to reconfigure the network (and other) settings.

Add a comment
Show form to leave a comment
Comments (newest first)
No comments yet.