---
Swisscom is Switzerland's biggest communication company, it's an ISP, mobile phone carrier/provider, web-hoster... and thousand more things we tax-payers had to pay for a decade ago (until it was privatized).
I rarely need their services/support but when I do need it, I need it immediately. Kind of difficult to do that, when the website just shows the following page: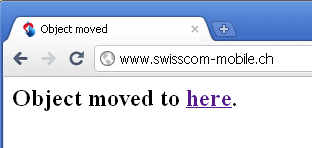 By clicking on "here" you land on the same page again. Funny loop!
Another day of proof where QA doesn't seem to exist at Swisscom.

Add a comment
Show form to leave a comment
Comments (newest first)
No comments yet.