---
This is incredible and shocking at the same time and it is important, that the world is informed about that, as millions of people could be affected.
I just received an e-mail from 1st level support that a user complained about an e-mail he has sent in March 2010 from his Hotmail account but only received it last week on thursday, May 19th 2011: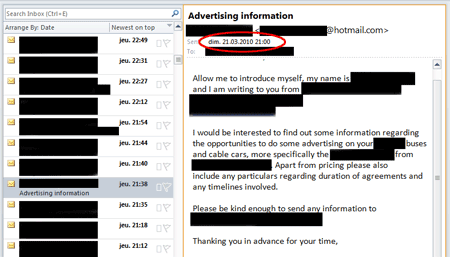 for privacy reasons, names, links etc have been hidden - click to enlarge picture

As one can see, the mail was sent on March 21st 2010. No, the date was not forged and the user confirmed that he really sent this mail on this date from his Hotmail account (BCC to his business-mail). I immediately started to investigate why this e-mail arrived that late and the result is - as announced - shocking! The e-mail itself arrived from the hotmail.com mail servers as the mail logs clearly show it:
May 19 21:38:19 mailserver postgrey[12020]: action=pass, reason=client AWL, client_name=col0-omc1-s13.col0.hotmail.com, client_address=65.55.34.23, sender=sendername@hotmail.com, recipient=recipient.address@example.com
May 19 21:38:20 mailserver postfix/qmgr[12669]: F1EAA110104: from=<sendername@hotmail.com>, size=23066, nrcpt=1 (queue active)
I also checked the mail logs of the original sending date (2010-03-21) but no e-mail arrived from his hotmail account that day. This means that Hotmail took more than one year (exactly 424 days!!) to send the e-mail. No information notice of delayed e-mail or something similar was received by the hotmail user.
Unforunately this fact shows that nobody can really rely on e-mail providers, not even the biggest ones.

Add a comment
Show form to leave a comment
Comments (newest first)
No comments yet.