---
What a shock yesterday when I opened my Gmail account and everything was in blue! First I blamed my cat for probably having walked on my keyboard or attacked my mouse (computer mouse!) as he does that sometimes. But let's solve that.. my cat must have clicked something hehe. I opened the settings and there was nothing to change the colors or the Gmail layout - and I didn't select anything in the labs to change the colors of my Inbox automatically.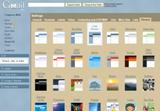 So I did a log out and after I logged myself in again there it was: A new feature has been enabled to use themes (different layouts) for your Gmail! The one who has been set automatically (a dark blue one) sucks but there are really some nice ones! Nice little gift from Google before the Christmas time, thanks!
Add a comment
Show form to leave a comment
Comments (newest first)
No comments yet.