---
Yesterday was the official start of the 2009's World Economic Forum (WEF) in Davos. And today, as I was waiting for the bus, I saw the following poster: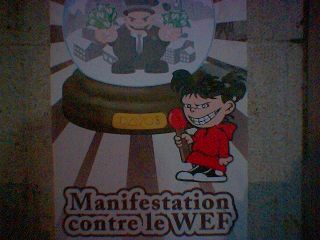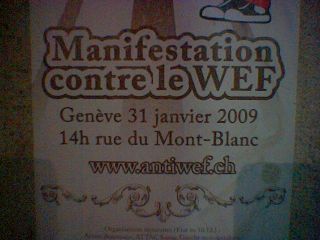 This poster shows without doubt what the demonstrators want to do: They want to crack the "glass of the rich", demolish it. As they announce, they want to gather in "rue de Mont-Blanc", next to all the very expensive shops and businesses. The intention seems clear: They want to break things.
In my opinion, this is once more the willingness of chaotics to vandalize something - the WEF is just a good excuse for a so called "demonstration". The spoiled Swiss youth doesn't know what to do - most of them don't even know what the WEF is doing. Surely, the WEF deserves skepticism but those people are just once more showing their disability to talk.
Add a comment
Show form to leave a comment
Comments (newest first)
No comments yet.