---
Over the weekend I've spent some time testing Kolab, an open source group ware solution. These are my thoughts so far on the installation on a new Debian Wheezy machine.

The initial installation, completely following the official installation guide for the community version, worked almost without problems. However there were some library issues when /usr/lib/mozldap/ldapsearch was launched. These library issues had to be manually resolved. Fortunately there is an excellent blog post explaining how to solve that. That issue however leaves me a bit uneasy. The official documentation has no reference to this LDD bug - and the documentation is based on Debian Wheezy, too.
While this LDD issue was unresolved, a login into the webadmin UI was possible, however no changes were possible. The UI looks nice indeed and once the LDD bug was solved (see link above) the UI was working as it should.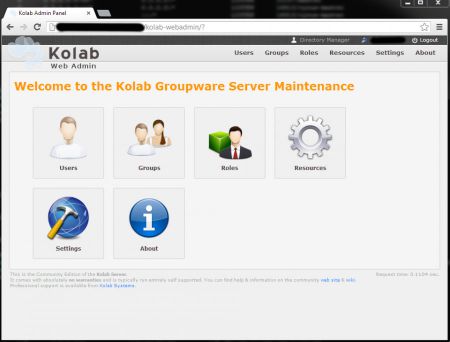 Creating users is very easy. It's actually pretty cool to create a user and give this user the "kolab-admin" role. That means that this particular user is allowed to manage the domain by adding users, creating resources, etc. I created two test users in the UI.

The next step was to try out the embedded Roundcube webmail. I've been a fan of the Roundcube project since a very early release (0.2.0 to be exact) and Kolab is currently using Roundcube in version 0.8.x. That was actually the main reason why I decided to try Kolab...
So the login into the webmail... didn't actually work. Both test users were not able to log in to Roundcube. After a manual Cyrus restart the logins finally worked.
What's important to me in a Groupware are the Global Addressbook (for the whole company) and the shared calendar features. Both actually worked pretty well, once I figured out how to share calendars. Also the possibility to create a meeting and check for the availability of other users (like it is known in Outlook connected to Exchange) is very well done.
As I started to like Kolab, I wanted to go one step further and use the Groupware as a "Hosted Groupware" application. Meaning that I would want to have several customers (each one with their distinguished domain) installed on Kolab and separated from the other customers. In the official documentation there is a chapter 11 explaining how to do this - but I failed miserably. Unfortunately this document is very, very unclear and leaves me with more questions than answers (example: should one use /usr/lib/mozldap ldap scripts or install the original ldapscripts? Probably, because ldapadd seems to be missing, however it is mentioned in the docs...). Besides that there are mistakes in the documentation (example -f option in an ldap command where no file path is given after).
The possibility to use a shared/hosted Kolab Groupware installation was essential to me for future (and production) use, but unfortunately due to the very complicated (and non-working so far) documentation I had to decide that Kolab Groupware is not yet stable enough to follow up on it. It clearly has a lot of potential and once this Hosted Installation setup is fixed (and potentially improved in the UI) Kolab will be a great player in the world of Groupware.
For users just wanting to use Kolab for only one company (a dedicated Kolab installation) I give you green light: No worries there.

Add a comment
Show form to leave a comment
Comments (newest first)
No comments yet.