---
I recently upgraded the memory in a Toshiba Satellite C660D notebook from 3GB to 6GB. This notebook has two memory SO-DIMM slots at the bottom of the notebook: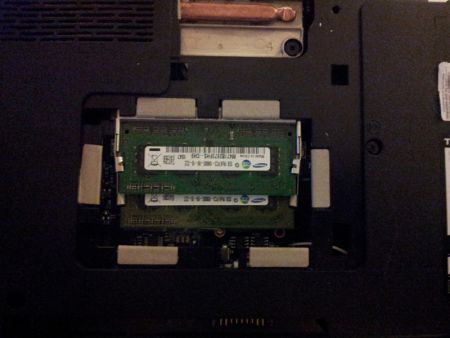 So I removed both original dimms (one 1GB, one 2GB) and plugged first the 4GB DIMM, then the 2GB.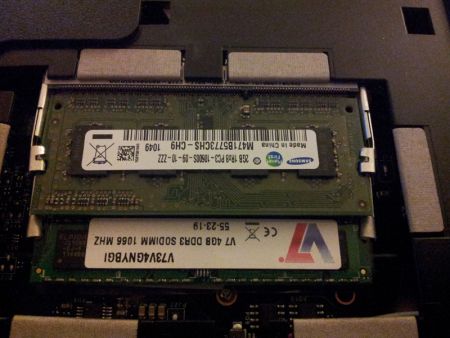 As soon as I booted, the machine showed the Toshiba icon and the typical boot display, staid there for a few seconds and then rebooted. This went on in a loop, until I went into the BIOS.
BIOS correctly detected the new memory and showed 6GB. But why wouldn't it continue to boot?
As the DIMM's are not the same size it is possible that the plugged order was not correct. Unfortunately, as one can see above, there is no indication, which slot is #1 and #2. So I just exchanged both DIMMs: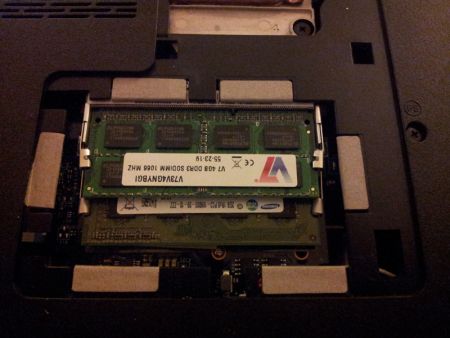 Final push on the "Power on" button of the notebook, and the machine booted correctly again.
Update October 22nd 2013
I should have downloaded the User's Manual from Toshiba... there it is a graphic which describes the slot number (Slot A and Slot B):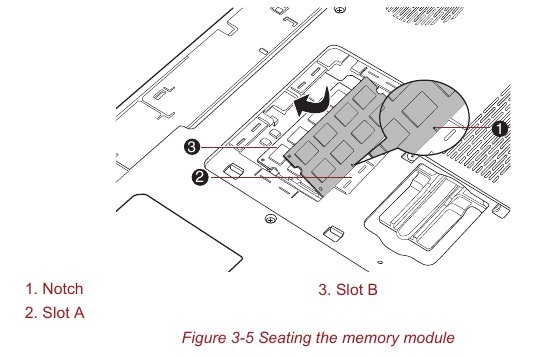 Followed by this text:
The slot A is reserved for the first memory module. Use the slot B for expanded memory. If only one module is installed, use the slot A. When inserting or removing memory modules, use the A and B marked on the computer chassis to determine which slot is A and which is B.
Looking for CPU upgrade?
A couple of months after this memory upgrade, I also upgraded the CPU of this Toshiba C660D. See article CPU upgrade on a Toshiba Satellite C660D notebook (AMD V140 to Turion II).

Add a comment
Show form to leave a comment
Comments (newest first)
ck from Switzerland wrote on Oct 12th, 2016:
Read the manual of the motherboard in your notebook or at least the user manual of your notebook's model. There should be a list of compatible RAM. In general SD-DDR RAM are compatible to older slots, as long as the pins match.
---
dellservicecenter from New Delhi wrote on Oct 12th, 2016:
How to upgrade my HCL laptop RAM supporting DDR2 to DDR4 is it possible ?

---