---
In the past few days I realized that the Bluetooth connection between my phone (Samsung Galaxy S2/GT-i9100) didn't work anymore. It would pair and lose the connection every 5 seconds - making it impossible to make a call. But it wasn't always like that.
The last (long) call I remember, that I made in the car, was on September 8th 2013. On that day I was using either Cyanogenmod 10.1.3-RC1 or 10.1.3-RC2. The latter was released on September 4th. Anyhow, with one of these the bluetooth call in the car was working fine. The "stable" release of 10.1.3 got out on September 23rd and I installed it on September 27th.
Back to the issue. So I had two options:
1) Go back to the previous version 10.1.3-RC2
2) Try 10.2 - although many people write about several issues in the forums

I did option 1 and installed 10.1.3-RC2. The phone immediately got hot and I remembered that on RC2, Cyanogenmod had a very annoying battery-eating bug.
Great, then I can as well try 10.2 and see if it works or not. And that's what I did: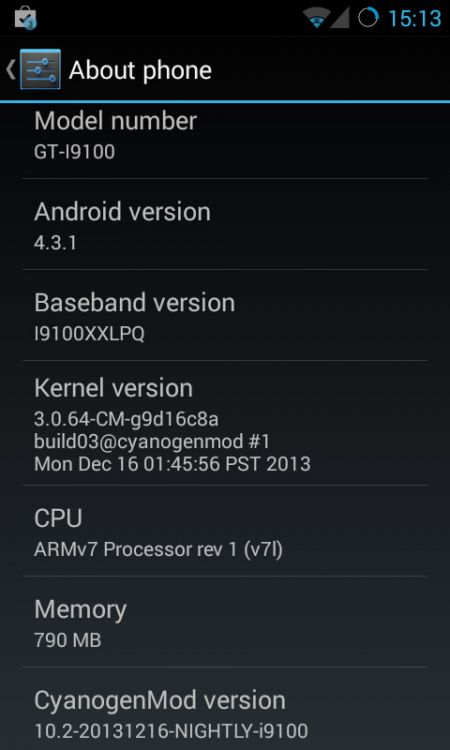 The following things worked fine after my first tests: WIFI, Bluetooth call in car (yayy!), Camera taking pictures, standard apps like Gmail.
One weird thing though: Whatsapp isn't "synced" with my contacts anymore and only displays the numbers instead of the names.
Update:
Whatsapp was launched with activated "Privacy guard" which prevented Whatsapp from accessing the contacts. That's why the names didn't show up. After disabling the Privacy Guard for Whatsapp, this worked fine again.
After a reboot I experienced a very strange "stuck on boot screen" issue. Read the next article (Installed CM 10.2 on GT-i9100 (Galaxy S2): Stuck on boot screen) for more information.

Add a comment
Show form to leave a comment
Comments (newest first)
No comments yet.