For a VPN connection, I wanted to install a new Cisco AnyConnect Client Software on my Windows 7 machine. As I happened to already have an older version installed (Cisco VPN Client 5.0), I first wanted to uninstall the older client.
Not that easy it turns out. The installed application didn't even appear in the list of "Programs & Features". And in the application folder itself there was no exe or msi file to uninstall the software. Crap.
Interestingly I found an article (http://www.maas360.com/maasters/forums/laptop-management/show/13/manual-uninstall-of-the-cisco-vpn-client) which explains steps to manually uninstall the software. The registry keys got me curious so I took a look at them.
For Cisco VPN Client 5.0.07.0440 I navigated to the following registry path:
HKEY_LOCAL_MACHINE\SOFTWARE\Microsoft\Windows\CurrentVersion\Uninstall\{5FDC06BF-3D3D-4367-8FFB-4FAFCB61972D}
And there I found an interesting registry key called "UninstallString":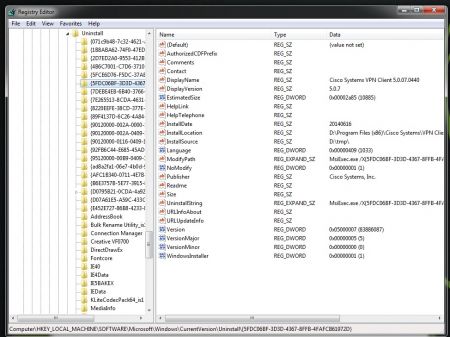 I simply copied the content of this string into a command prompt box (launched as Administrator), inserted the UninstallString value and the automatic uninstall of Cisco VPN Client started: