---
Had a strange phenomenon after I recently installed a new Radeon R7 graphics card on my Win 7 workstation. In certain programs (Windows Photo Viewer and Photoshop) white started to appear as yellow or yellow-ish on the display.
However I knew that it was still a "correct white" because when I saved the image and looked at it on another computer it didn't have a yellow-ish tone.
The following solution found on this page finally solved it:
1. Open your Windows Control Panel
2. Click on "Color Management" (or search for it in the Search Control Panel field)
3. In the "Devices" tab, select your monitor and activate the checkbox "Use my settings for this device" below it.
4. In the list below (Profiles associated with this device) add the profile "sRGB IEC61966-2.1" by clicking on the "Add..." button.
5. Now select this newly added ICC profile and click on the "Set as Default Profile" button.
6. If you have multiple displays, select your other display in the list above (Device) and repeat steps 3-5.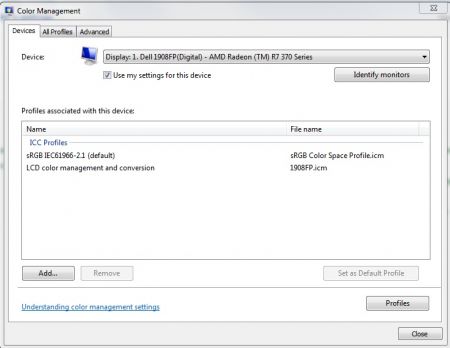 That solved it.
Update October 10th 2017: After I upgraded the graphics card drivers with the latest Radeon drivers, this color profile management was managed and I had to set the default profile again.

Add a comment
Show form to leave a comment
Comments (newest first)
No comments yet.