---
Dear LiteON,
I hope that someday, someone of your direction or your marketing dept. or even someone of the support has got five minutes of spare time, googling for 'LiteON support' and will finally land on this page. Because this is intended to be an open letter.
When you create an optical DVD drive iHAS424 with typical SATA connections and you bundle it with a SATA Slim Data+Power adapter, have you ever tried to connect this male adapter to the female connections on your drive? Because I you have ever tried, you would have seen that they are NOT compatible at all.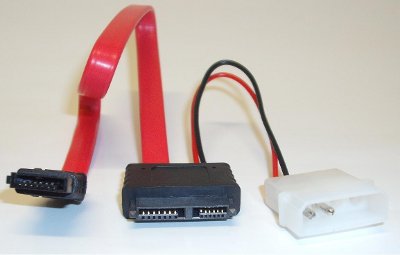 My desperate attempt to inform you about this mistake by writing to your support was followed by unnecessary and completely -sorry- stupid answers written in poor English saying basically 'this is not an IDE drive'. Thank you! Actually this is WHY I bought this drive, because it is NOT an IDE drive.
But as I can quote your first answer on my demand:
Could you send the photo of the SATA-adapter to us so that we will check whether the drive bundled with correct accessories?
I already knew where this whole support request was going - Nirvana, Neverland, Nowhere, Wonderland (because I really wonder how your support works).
You are the technical support and you do not even know what kind of adapter you bundled. And even for my friendly answer sending you your wanted picture (since my description obviously didn't create a picture in the mind of the technician) I got a ridiculous answer saying
the bundled SATA Cable and SATA power cord is correct
If you are able, with brute force, to connect a DVI monitor to a VGA graphic card, then you are also able to connect the bundled adapter to your iHAS424 drive and your answer must be correct. Thank you again very much.
Add a comment
Show form to leave a comment
Comments (newest first)
No comments yet.