---
Had a strange case of application problem today, when a webshop running on Shopware 5.x started to sporadically return http 503 status and therefore triggering our monitoring system and disabling the website in the reverse proxies (which are running in front of the application server).
By fiddling around with local hosts entries and therefore bypassing the reverse proxies, something strange could be seen in the browser: The web shop is shown correctly, however the HTTP status from the application server is a 503 (see screenshot).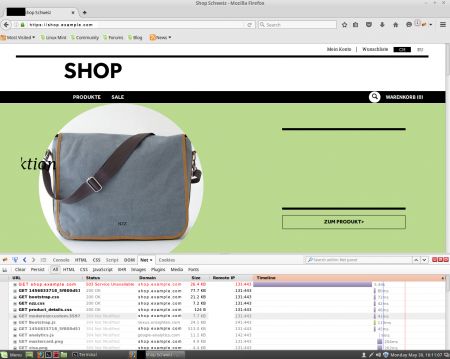 First it started off with sporadic 503 returns but after a while every request got a 503 status return. Neither in the Apache/PHP nor in the Shopware logs was a hint what would cause this. More or less by chance I decided to rename the cache folder (SHOPWARE_ROOT/var/cache) and create a new empty cache folder. And voilà, the application worked again and displayed the shop once again with a correct HTTP 200 status code.

Add a comment
Show form to leave a comment
Comments (newest first)
No comments yet.