---
This week a web-application was migrated from PHP 5.4 to a newer server with PHP 7. It required a few modifications of the applications, but it finally ran correctly.
The most interesting part: The application running under PHP 7 is now 3x faster than before! Take a look at the following graph which comes from our monitoring and measures the response time of the web-application: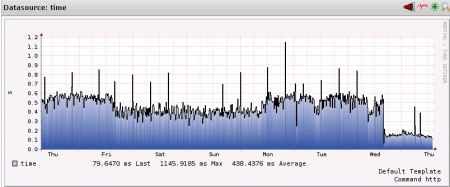 Without a doubt you saw he "drop" of response time on Wednesday afternoon.
Here some additional information:
"Old" server was running on a CentOS 6 VM with Nginx and PHP-FPM 5.4. "New" server is a Ubuntu 16.04 LXC container with Nginx and PHP-FPM 7.

Add a comment
Show form to leave a comment
Comments (newest first)
No comments yet.