---
Whenever I look at my web stats, I'm overwhelmed and shockingly surprised, how many people find its way to my site using the very informative keywords i hate blade servers. To use such keywords in a search engine means it must have caused a lot (hell a lot) of frustration.
Now the question is: Which blade vendor actually causes most trouble? Unfortunately I can't compare this in personal working experience but good old friend Google helps us a bit. If one searches for sun blade problem Google reveals that there are approximately 512'000 results. Let's do this on four big blade server vendors and this is the result: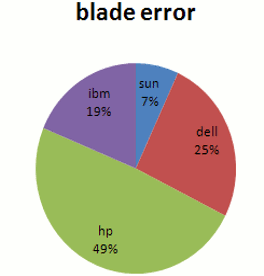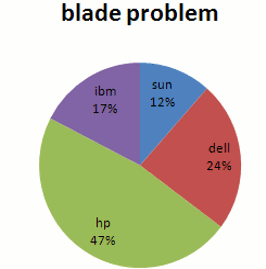 | | | | | |
| --- | --- | --- | --- | --- |
| blade problem | 512000 | 1060000 | 2110000 | 775000 |
| blade error | 152000 | 565000 | 1080000 | 413000 |
I know this actually doesn't represent real error statistics and doesn't prove which blade system is better or more stable, but it is funny anyhow to see the enormous differences in the amount of web pages concerning blade problems.
Add a comment
Show form to leave a comment
Comments (newest first)
No comments yet.