In recent Firefox versions I noticed that the search field next to the address bar disappeared. While it is still possible to simply enter keywords in the address bar and therefore use it as search field, it is not possible to dynamically change the search engine, which was pretty handy sometimes.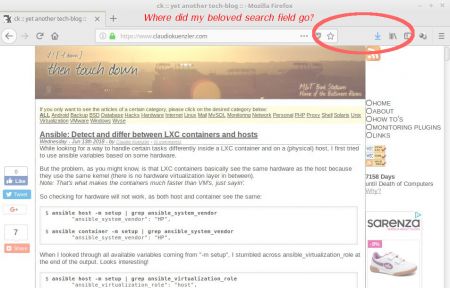 But the search field can be made visible again. It simply requires a quick change of Firefox's settings.
Open a new tab and enter "about:config" in the address bar, then enter. Accept the warning that you'll be careful.
In the search field (inside the about:config tab), enter: "browser.search.widget.inNavBar".

As you can see, the value is set to "False". Double-click on the line/text of the preference and it will change to "True" (and text will become bold). And you'll also see that the search field magically re-appeared next to the address bar: