---
A new version of check_rpi_temp, a monitoring plugin to measure the temperature and alert on temperature thresholds on a Raspberry Pi board, is available!
The current release 0.3 changes the way temperature is read. In the version before, the command vcgencmd was used to retrieve the Pi's temperature. This was a comfortable way to get the readings, however it needed special permissions. This prevented monitoring agents running with another user, such as NRPE running as nagios, to correctly run the plugin - unless it was run with sudo.
Tobias Bossert came up with an alternative way to get the temperature readings by using the /sys/class/thermal/thermal_zone0/temp value. 0.3 also added min and max performance data values. In Icingaweb2 user interface, the performance data values are now displayed as "pie" statistic graph.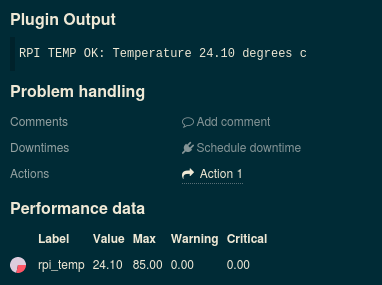 Thanks a lot to Tobi for his contribution!
Add a comment
Show form to leave a comment
Comments (newest first)
No comments yet.