---
A new version of check_rancher2, an open-source monitoring plugin to monitor Rancher 2 managed Kubernetes clusters, is available!
Release 1.6.0 adds performance data on a single cluster check. You can spot them in the plugin output:
$ ./check_rancher2.sh -H rancher2-test.nzz-tech.ch -U token-xxxxx -P "secret" -S -t cluster -c c-5f6hk
CHECK_RANCHER2 OK - Cluster mycluster is healthy|'cluster_healthy'=1;;;; 'component_errors'=0;;;; 'cpu'=8231;;;;16000 'memory'=11120148480B;;;;33456439296 'pods'=88;;;;440

Or you can also spot them in your favorite monitoring software. Here in Icingaweb2: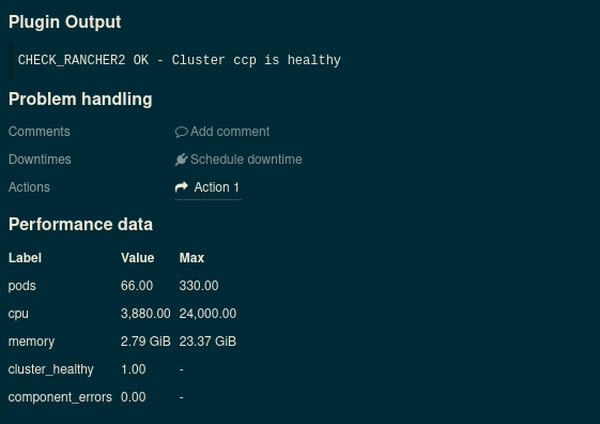 As of this version, performance data includes:
Number of component errors (already existed)
CPU usage in millicores (and capacity as max value)
Memory usage in Bytes (and capacity as max value)
Number of pods (and capacity as max value)
Using performance data allows to create graphs. In this example the CPU usage (in millicores):


Besides the added performance data, version 1.6.0 also contains a bug fix of the "project" check type. In the past versions, a wrong variable was used for status comparison.
These changes were contributed by Steffen Eichler in PR 20. Thanks so much for the open source contribution!

Add a comment
Show form to leave a comment
Comments (newest first)
No comments yet.