A couple of years ago, I had to handle a massive file transfer on a Windows file server. Back then I used Robocopy (mentioned in the link list) to do the job, which worked excellent.
Now I had to do a similar transfer and naturally wanted to re-use Robocopy until I saw that the article about a GUI for Robocopy on the Utiliy Spotlight website of Microsoft has been updated and now mentions a new copy tool called: Richcopy.
To release a better GUI than the one made for Robocopy is not that difficult. What is more interesting is the functionality of both tools.
Robocopy (I'm refering from now on to the command line) is a short name for 'robust copy' (and not Robot(ic) copy as many think, although it can be used in batch scripts). It is the known working tool to copy files and folders and keep their NTFS security permissions. However, it is known to be slow, as each file is treated once after another.
Richcopy is newer but does newer mean better? The GUI seems straightforward, simple and provides all essential copy-options.
I started the transfer with Richcopy: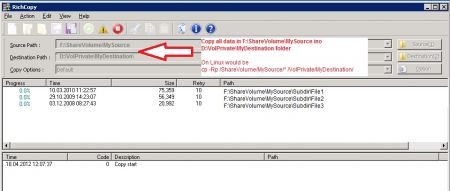 As soon as I started the copy process, Richcopy accessed several files at the same time (see screenshot above). That's a big improvement over Robocopy! With this multi-threaded copy, it didn't only seem faster to my eye, but was in fact much faster. Another nice improvement is the fact, that now the copied folders and files take heritage of the destination folder. That's exactly what I needed in this file transfer scenario.

The lucky moments were short: After a few subfolders (with so many subfolders that the UNC path is too long) Richcopy started to have problems and crashed. Yes, GUI was gone. Copy process was gone. I retried the same copy process and Richcopy crashed again.
I was forced to use Robocopy again, which had no problems whatsoever with long file names or file paths and everything was copied. But again, one file at a time, which made it much slower. Once everything was copied, I had to redo all the permissions-heritage on the destination folder, as all NTFS permissions were taken 1:1 from the source (this might be good in some scenarios, but that wasn't what I needed).
So to summarize this transfer, both tools have strong pros and cons:
| | |
| --- | --- |
| Robocopy | Richcopy |
| +++ No problems with long file path | --- Crashes when trying to copy long file path |
| --- Copies the same permissions | +++ Automatically applies destination folder permissions (heritage) |
| --- Copies one file after another | +++ Multi-Threading -> faster copy |
| +++ Better documentation, more examples online | --- Not many examples found |
If Richcopy would not have crashed every time the path of the file to copy became too long, it would have been the perfect solution for my case. If this bug would be solved in Richcopy, it would be a worthy successor of Robocopy.

Note: I didn't use the command line functions of RichCopy, only the GUI. It might be that the crashes affect the GUI only.