---
As I already wrote in an article (Slow hardware discovery/check with ESXi 5.0 U1) in March, there is a bug in the current ESXi version (5.0 U1) which slows down the query of the CIM entries. VMware acknowledged the bug and announced a bugfix for Q3.

Now I just saw that VMware has created a new Knowledge Base entry on April 17th for this particular bug:
http://kb.vmware.com/kb/2016538

This is not only great for ESXi admins to track this bug and find updated information but it is also great for the Nagios plugin check_esxi_hardware.py as it is mentioned directly in the KB article!
Take a look at the screenshot (or visit the KB link above):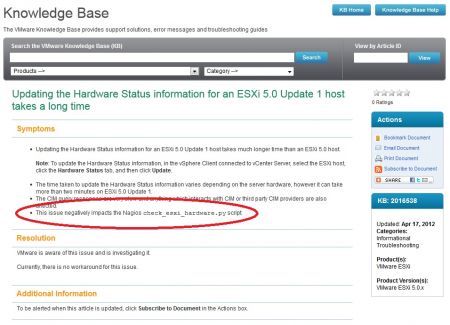 Thanks to all the check_esxi_hardware users who contacted VMware concerning this bug. I'm pretty sure that users of check_esxi_hardware.py were the first ones hitting that bug ;-).

Update July 17th 2012: VMware has fixed the bug. More information.

Add a comment
Show form to leave a comment
Comments (newest first)
No comments yet.