In a previous post (Samsung Galaxy S5 (G901F): Pain to install custom recovery or Cyanogenmod) I described the difficulties to install a custom recovery image or another ROM (CyanogenMod in this case). The main problem is, that the Samsung Galaxy S5 with the Samsung model number G-901F is not a klte device, for which CyanogenMod downloads are available, it's a kccat6 device.
In the CyanogenMod forums someone pointed fellow G-901F owners, wanting to install CM, to an XDA Forums post. This is basically the first unofficial CyanogenMod ROM ported to the G-901F device by the Sayanogenmod Project.
I decided to give it a shot and install CM 12.1. The following steps explain how.

1. You understand that you most likely void your warranty of your Samsung device. As with all other tutorials, you are responsible for your own actions etc bla bla. Let me just add that I created a full backup before I installed CM, so I would be able to switch back to the original/stock Samsung ROM (Touchwiz).
2. Install a custom recovery first. See post Samsung Galaxy S5 (G901F): Pain to install custom recovery or Cyanogenmod on which you can just follow the steps.
3. Download CM 12.1 zip file from http://fsrv1.sayanogen.com/KCCAT6/NIGHTLY/CM12.1/. I downloaded the currently newest nightly version (20150705).
4. Download GApps (Google Apps) zip file for Android 5.1 on https://github.com/cgapps/vendor_google/find/builds . The kccat6 device is running on an ARM processor (not arm64!).
5. Transfer both zip files to your phone. I saved them directly in the "SD Card" folder, not in a subfolder.
6. Power off the Galaxy S5.
7. Boot the phone into the Recovery Mode by pressing the following button combination: Volume Up + Home + Power. Keep it pressed until you see a small blue text appearing on top of the screen.
8. Backup time! The CWM recovery allows you to create a full backup. This can be a lifesaver if the installation of CM fails.
In the recovery menu, navigate to "backup and restore", then select "backup to /sdcard". Confirm with "Yes - Backup". This will create a zip file of the current recovery image and the complete Android system in /sdcard/clockworkmod/backup/.
9. Back in the recovery main menu, select wipe data/factory reset and confirm with Yes - Wipe all user data. Now do the same with the cache partition by selecting wipe cache partition. To make sure you should also wipe the Dalvik cache. You can find this in the advanced submenu.
10. Now it's finally time to install CyanogenMod. Select install zip from the recovery menu, select choose zip from /sdcard and select the cm-12.1-XXXX zip file you downloaded in step 3. Confirm the installation with Yes - Install cm-12.1-XXXX..
11. Do exactly the same installation steps, but this time for the GApps zip file.
12. After you've successfully installed both zip files you can reboot the device (reboot system now option in recovery main menu).
Voilà, CM 12.1 is now booting!
Congratulations!
Update July 24th 2015: Now that I run CM 12.1 for a couple of days, I unfortunately see a huge battery drain from the Android system. It only takes a couple of hours (without using the phone at all) and the battery is empty.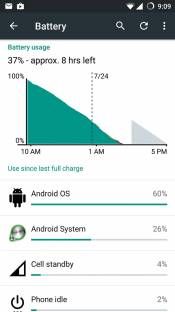 I will try it with CM 12 (not 12.1), too. Hopefully the battery is holding longer there. In the worst case I will have to go back to the stock ROM.
Update September 15th 2015: I have been running CM 12.0 for almost two months now, without having hit any major bug. The battery life is much better than on 12.1, too.
Meanwhile the links in the original article seem broken. You can download CM 12.1 and 12.0 zip files from here: http://www.claudiokuenzler.com/downloads/G901F-CM12/